2019 is about to bid farewell, and if you're like us at MKTR.AI, you'll want your business to start the new year with an explosion of growth.
But how the heck are you going to achieve explosive growth?
Based on the title of this article, you've probably guessed the answer, but here it is anyway: EMAIL MARKETING.
So 2008, I know. But as we discussed in the Ultimate Guide To Email Marketing, email marketing is still one of the most profitable forms of marketing. With that in mind, we're going to show you the top 15 email marketing tools for 2020.
Today, there are so many email marketing services available to small business owners; it can seem challenging to choose only one. That's why in this article, we are going to breakdown 15 of our favorite options to choose from. So by the end of this article, choosing an email marketing provider should be much easier.
If you get through this article and are still struggling with your email marketing, shoot us an email and we'll be happy to give you a free consultation.
What should you look for in your email marketing software?
Choosing the right one can have a big impact on your overall success. Due to the number of email marketing tools available, it's important that you list out your email marketing needs, so that you can whittle down the list and match the best tool for your requirements.
As we know, email marketing isn't about sending random promo emails to people, hoping that they'll become profitable conversions overnight. It's about communicating with people in a humanized fashion, using targeted content to deliver your message.
That said, using an Excel spreadsheet coupled with Outlook to manage your lists and send emails no longer works! In the modern age, you need something far more efficient. So when choosing your email marketing software, these are five factors you should consider:
1. Reading and Viewing options
Fewer and fewer people are opening their emails from traditional desktop settings. In fact, 43% of people now check their emails on their smartphones every single day.
This means choosing an email marketing tool with functionality and mobile-optimized templates should be considered! If someone opens an email on their mobile device and it can't display correctly, they'll bounce immediately, and your efforts will be for not.
2. Response handling
Email response handling is of vital importance. If you are part of a smaller business sending out a newsletter or email series to around 1,500 people per month, you'll require less sophistication regarding automation and response handling, and you'll be able to handle some of the work manually.
However, if you're handling mass amounts of emails, choosing email marketing software that will allow you to send automated responses or aggregate customer responses into tickets will be a lifesaver.
3. Integration
When you work in digital marketing, your Customer Relationship Management Software (CRM) is your best friend. Updating lists and sending emails manually is time-consuming, so choosing an email marketing platform that integrates seamlessly with your CRM will provide you with a hassle-free solution for managing valuable content and customer data, as well as providing you with an overview of key metrics to see which campaigns are performing the best.
4. Tracking Tools
Speaking of metrics, be sure that your email software has rich reporting capability that enables you to be sure you're spending your time, money, and effort in the right places. With the right resources, email marketing is one of the most measurable mediums marketers have at their disposal.
Therefore, look for reports with key metrics such as Open rate, Click-through rate, unsubscribed rate, bounce rate, etc. These high-level data points show the overall success of your campaigns.
5. World-class Support
From time to time, you're going to need help with your email marketing service. When that time comes, you want to be sure your email service provider is there to help.
Test the waters with a few different providers by performing a couple of experiments like browsing troubleshooting resources, asking for help with a common problem, or seeking out additional support resources. You should look for an email marketing software that provides support through a variety of channels when you need help.
---
Convinced you should give email marketing a try?

Great.

Any of the services below are an excellent place to start.
MailChimp is a leader in email marketing tools that you've probably heard of. It is simple and one of the best email marketing tools for bloggers and small businesses. Ever since it started they have been continuously evolving their features to get a niche over their competitors. Undoubtedly, it's a progressive email marketing tool with more than 1 billion emails sent every day.
MailChimp has a forever free plan that makes it the most used email marketing software. Some of the advanced features here include contact segmenting, service and app integrations, autoresponders, A/B testing, and time-zone based sending to name a few. What's more, their support team is very responsive with plenty of educational resources to help you every step of the way.
The free plan at MailChimp allows users to send 12,000 emails every month with a subscriber limit of 2,000. If you desire to exceed 12000 emails, they offer paid plans starting from $ 50 up to $ 250 per month.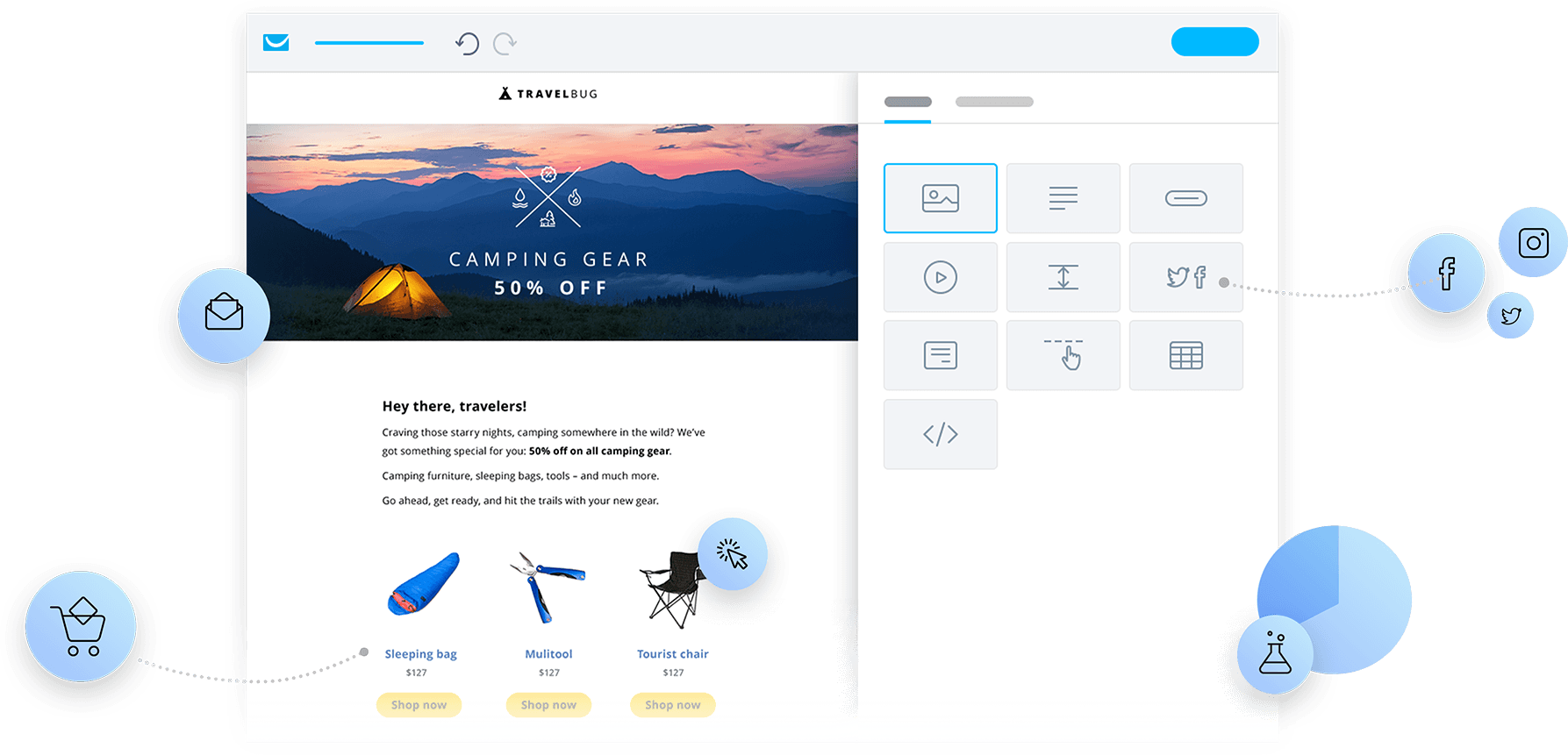 GetResponse offers advanced formatting options so that your emails look good whether they're viewed on a computer or mobile device. With its dynamic content feature, you can segment your mailing list and send relevant, personalized emails to your customers.
Additionally, GetResponse also integrates with most third-party lead-generation software for a seamless process. The service provides real-time email tracking as well as dedicated account manager support. After a 30-day free trial, pricing starts at $15/month.
All in all, GetResponse is great for beginners and offers a Perfect Timing Feature that will predict the best time of day to send emails, as well as A/B testing and exhaustive resources on how to use the service.
ConvertKit is one of the most sought after email marketing tool, used mainly by publishers and bloggers. This tool is designed in such a way that online creators like bloggers, Podcasters, and YouTubers will get maximum return from this.
ConvertKit email automation is easy to understand and easy to use for publishers. For example, if you want to have a powerfully automated email funnel Convert kit has a visual automation builder that helps you guide a visitor through their customer journey.
ConvertKit plans start from $29/month to $79/month for 1K subscribers to 5k subscribers respectively. For more subscribers, you can choose to calculate the custom price.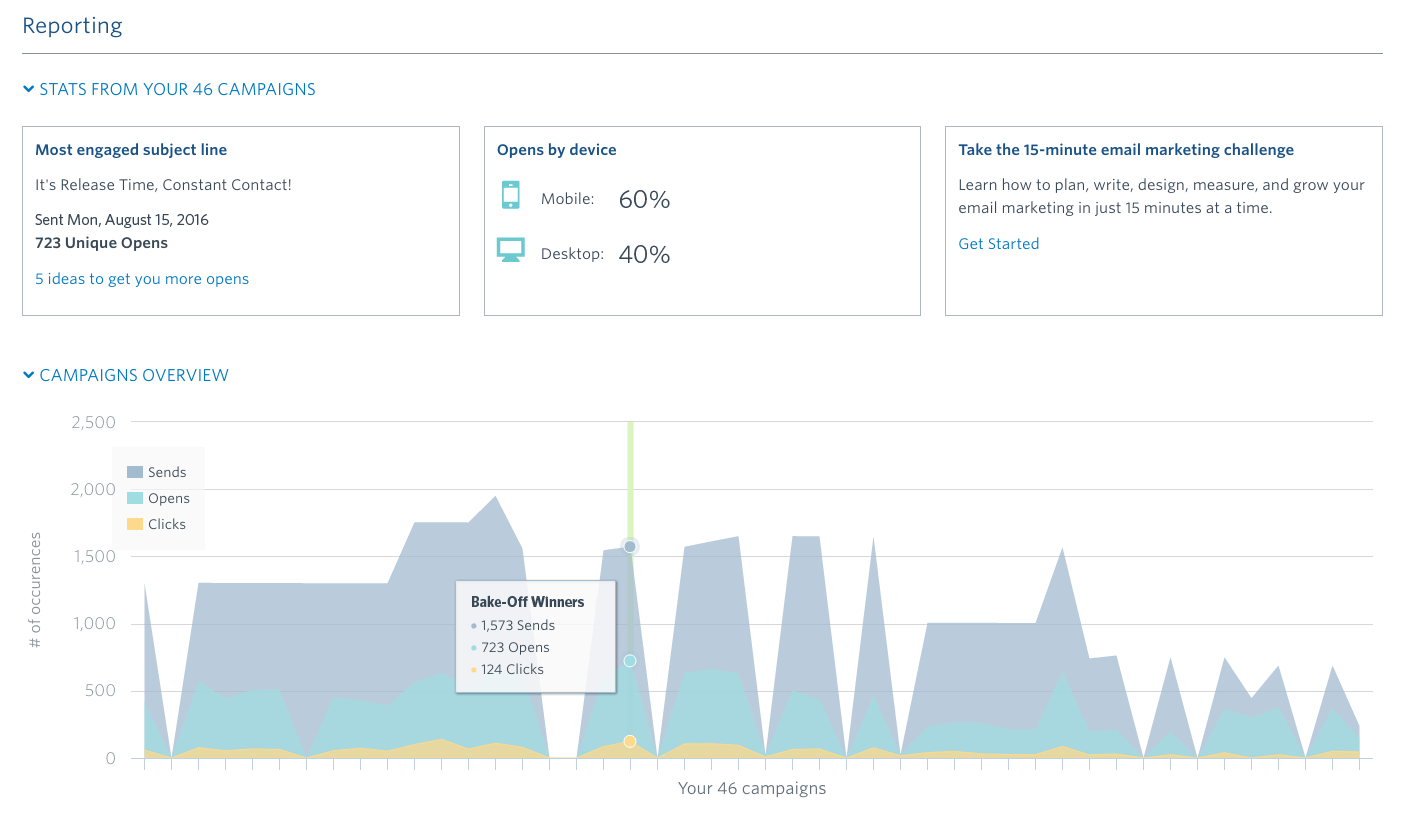 Constant Contact is one of the largest and fastest-growing email marketing services available. This platform's features include customizable templates and easy-to-use contact management tools. It has real-time tracking capabilities, which will allow you to see who's opening, viewing, and sharing your emails.
Additionally, Constant Contact is one of the few tools on this list that has an event management tool. It allows you to send invitation emails, ask the recipients to register, and then remind them once the event is near.
The company offers live chat, email, community support and a library of resources to address your questions and technical issues. You can test the service for 60 days free of charge. After that, pricing starts at $20/month.
ActiveCampaign takes pride in its personalized marketing automation. With the help of its tags, you can create custom emails that are based on the subscribers' information.
This email marketing service offers 35 personalization tags out of the box. However, you don't have to stick with the default options. ActiveCampaign also allows you to create your own tags, so the personalization options for your emails are limitless.
ActiveCampaign has four pricing plans: Lite, Plus, Professional, and Enterprise. The price ranges from $9 to $229/month for up to 500 contacts. The price will differ if you choose to have more contact allowance.
All in all, ActiveCampaign is a perfect choice for businesses that want to create a more personal connection with their contacts. With personalized content, predictive sending, and the ability to track your contacts' path, you can rest assured that your campaigns will generate great results.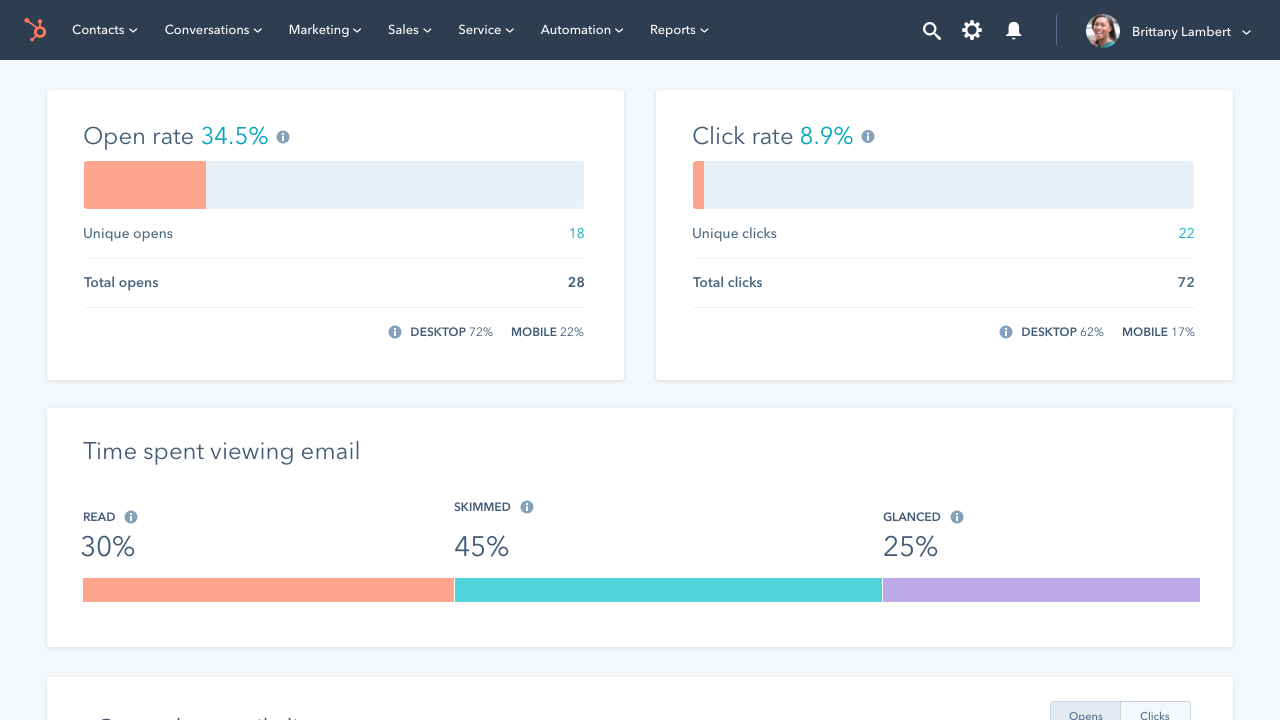 Hubspot is a trusted and reliable email marketing tool that has been in operation for years. It provides a range of features and tools that help small to medium-sized businesses to grow. It has a user-friendly interface that can be integrated with other applications on your website.
Hubspot's biggest advantage is its combination of email automation with CRM and sales, making it easier to design and implement smarter campaigns. Though it's certainly not the cheapest on the list, bigger businesses will appreciate its all-in-one set of capabilities.
Additionally, you also have the choice to create your emails or use their templates. You can schedule emails in advance and personalize emails with variable population tools.
HubSpot has three different pricing options. The starter pack is $50 per month, and you get lead analytics, flows, collected forms, and the CRM. The basic plan is $200, and you get everything we mentioned plus email marketing, landing pages, and an analytics page. Finally, the pro plan is $800 per month, and you get everything we discussed plus automation tools, smart content, split testing, and more.
AWeber has been in the game for a long time, and its features include over 700 free templates, list segmentation, a drag and drop email editor, and host webinars to make the most of their services. In fact, AWeber is the most sought-after by small businesses.
It comes with every feature required to grow your subscribers. You can design your advertisement, by using special features, designed specifically for personal use. It is very easy to enable the automatic feature which ensures automatic responses for email and mobile providers.
Best of all, you can integrate AWeber with your WordPress website, landing page builder, or opt-in form builder with ease. Support options include live chat, phone, and ticket-based emails. AWeber is a solid option for marketers in general, especially those who are just getting started with email marketing.
AWeber's plan starts from $19/month to $149/month for 500 subscribers to 25000 subscribers respectively. If you have more subscribers then you can get a custom quote.
Designed specifically for small businesses, Moosend is an award-winning, affordable Email Marketing and Automation platform that combines a user-friendly interface with numerous advanced features. The company prides themselves on their intuitive drag-and-drop campaign editor, which allows you to easily customize your campaigns.
They also offer real-time analytics and advanced email list segmentation across its pricing plans. This way, you can rest assured that you have targeted the right audience for you.
Moreover, many users have said that Moosend excellent customer support.
You can streamline your Email Marketing and Automation strategy with Moosend's "forever FREE" plan for up to 1,000 subscribers. This also allows you to send unlimited email campaigns (and you get access to all features). For their bigger customers, Moosend offers subscription plans for as low as $10/month.
For small businesses that are just beginning their email marketing or newsletter efforts, Mailerlite might be a perfect solution. With unlimited free emails and access to features when emailing under 1,000 subscribers, this mailer is a no-nonsense, intuitive tool.
One Mailerlite feature that is not easily found elsewhere is their unlimited email database storage that comes without fees as long as fewer than 1,000 addresses are emailed. Best of all, they have 24/7 customer support, ease-of-use for beginners when building and sending emails, and free access to all features, with paid plans starting at a price of $10/month.
All in all, Mailerlite is a great option for businesses interested in getting started with email without high prices, restrictions on features, or limitations for the non-technical. If you do plan to scale well beyond 1,000 subscribers or are proficient in technical email building, other platforms might be worth more consideration.
If you're new to email marketing and need an easy-to-use, intuitive platform that is still reasonably comprehensive, Zoho Campaigns might be your best bet! It is a good option for small to enterprise-sized businesses, depending on how quickly you're scaling.
With the Zoho Campaigns free plan, you get access to features such as A/B testing, reports, and templates. If you're already using the Zoho CRM, it makes sense to check out Zoho campaigns to see how email and CRM work together.
It's important to note that while the free version provides a lot of features, most of these features have limitations. Additionally, it can be difficult to get started using Zoho Campaigns because it requires customization before sending emails.
But the great part is, Zoho offers 12,000 emails per month for up to 2,000 subscribers. Pricing starts at $5/month for up to 500 subscribers.
Drip is a powerful email marketing platform, particularly if you're an eCommerce business, blogger, or marketer. It closely resembles both ActiveCampaign and ConvertKit.
Drip uses features like message personalization, e-commerce integration, and deep analytics. It's also one of the most beginner-friendly tools available and integrates with most popular website builders. This makes it easy to add sign-up forms to your website and grow your contact list.
With this software, you can build visual emails and create workflow automation, and it contains some seriously powerful segmentation options. Customer support options include live chat, Webinars, automation training, and a library of free guides. Drip has a starter plan that's free up to 100 subs, and their basic package is $41 for 2500 subs.
If you are a creative person or someone who wants to create visually stunning (like I am), responsive emails in just a few clicks then Benchmark is the right choice for you. Benchmark focuses on simple email marketing and has a stronghold on creative design as it is equipped with a heavy-duty email designer.
It also allows you to add and edit photos in its editor. Additionally, you can add effects, stickers, text, etc. to make your email more appealing. Benchmark also has a feature using which you can streamline auto-responses, create surveys and polls, etc. With the real-time reporting feature, you can keep track of your activity.
Benchmark's free plan offers free-for-life services. The services include 2000 subscribers and 14000 emails per month. They also offer four different paid plans: Medium – $21.99 per month, Large – $346.99 per month, Extra Large – $758.99 per month, and Massive – for $4,800 per month.
iContact offers email design, social content, copywriting support, and access to the company's in-house service team. It's easy-to-read dashboard displays key metrics to track and improve the success of your email campaigns.
Both easy to learn for email marketing newcomers and extensive and functional for more technically inclined veterans, iContact is a solid choice of email marketing automation. The back-end functionality is reliable and extensive, their email templates are high quality, and the user experience of the software is very typical to other platforms we reviewed.
iContact prides itself on its customer service, promising that their support team will answer phone calls immediately. In a nutshell, this is an all-in-one tool for both email marketing and social media scheduling. The Essential package costs $32/month, while the Professional package is $99/month.
Mailjet comes with intuitive and collaborative tools to help you build effective email marketing campaigns. Customize any of the pre-designed templates and create responsive emails to impress any recipient no matter which device they're using. If you work with a team, you'll love the platform's real-time collaboration feature that allows for seamless collaboration.
This email marketing tool also lets you add dynamic content so you can create personalized and relevant emails for each recipient. This helps you get much better results out of your email marketing campaigns. You can also integrate the platform into your CRM and easily manage your mailing list through a single dashboard.
Their free plan offers unlimited contacts and up to 6,000 emails per month, while their paid plan starts at $8.69 per month.
Sendinblue is an all-in-one platform that provides email, SMS, and chat marketing tools. This email marketing service allows you to send transactional emails. You can choose to send a password, reset messages, order confirmations, shipping notifications, and many more.
Sendinblue does both marketing emails and transactional emails, and they offer a lot of the features you would expect from an email marketing service. They have email preview options that allow you to view your emails on mobile and different platforms.
You can create lists of subscriber data, segment lists, and create profiles for each lead. So aside from marketing, Sendinblue ensures that your customers will have the best experience with your brand.
Sendinblue offers plenty of customization and personalization tools as well. They offer a free plan that allows you to send up to 300 emails per day, which is great. If you need more than that you could upgrade to their $66 per month plan that offers you 120,000 emails per month.
What do we use?
We use MailChimp, integrated with Pipedrive CRM, and several different form tools for MKTR.AI and most of our smaller clients.

You need to pick the right tool to help you achieve your goals, not what other people think is right for you.

I highly suggest, as Ervin highlighted in this article, making a list of your most important needs. Then rank those needs and compare and contrast the services available.

Good luck, and don't hesitate to reach out if you need some help!

Mike Nemke, CEO @ MKTR.AI
There You Have It!
As you know by now, email marketing tools are a must-have for an effective email marketing strategy for your business. And in this modern world, there's an abundance of email marketing tools available on the web, each has different focuses and specialties–of course, they all come with their own set of pros and cons and price points.
At the end of the day, my advice is to do your research–matching the software with your unique email marketing goals as closely as possible. Make use of the free trials and demos where they're available. After all, it's not until you get to try out a piece of software that you get a true sense of whether it'll work for you.
Among other things, the right email marketing tool will ensure that your carefully drafted messages don't get blocked and reach your recipients at the right times. They can help keep your targeted group of customers engaged and involved.
If you have been using any other email marketing tool that you've found helpful, we would love to hear about it. Please tell us about it in the comments.